TMS/rTMS
(Repetitive) Transcranial Magnetic Stimulation
What?
''A noninvasive method to cause depolarization or hyperpolarization in the neurons of the brain. TMS uses electromagnetic induction to induce weak electric currents using a rapidly changing magnetic field; this can cause activity in specific or general parts of the brain with minimal discomfort, allowing the functioning and interconnections of the brain to be studied.''
What to expect
Feeling like you're getting repeatedly poked in the head. It doesn't hurt, it's just weird. Depending on the stimulation, one or many parts of your body will twitch. For example, your teeth might clench together every 2 seconds, or half of your face could start smiling over and over. The repeated twitch could be a little uncomfortable, but I find it mostly hilarious.
Rare occurrence of seizures and syncope were recorded.
If only we could see his twitch face
EEG
Electroencephalography
What?
''The recording of electrical activity along the scalp. EEG measures voltage fluctuations resulting from ionic current flows within the neurons of the brain.''

What to expect
A completely painless and generally risk-free
process.
You also get to wear a sweet sci-fi cap
that makes you look like the inside of a computer, only

sexier.
Sweet mother of glob... it's beautiful!
MRI/fMRI
(Functional) Magnetic resonance imaging
What?
''... uses magnetic fields and radio waves to produce high quality two- or three-dimensional images of brain structures without use of ionizing radiation (X-rays) or radioactive tracers.''
What to expect
An extended period of time in a narrow scanner while not being allowed to move (around 30 minutes). Earplugs are provided to block out the loud noises (sounds like dial-up Internet). Risks related to those who have metal in their bodies (pacemakers, piercings...
).
Really sucks when

you have to sneeze.
There are no known side-effects to an MRI scan.
Claustrophobics be

ware.
Can also be used as a time machine.
What?
''fMRI is a type of specialized MRI scan used to measure the hemodynamic response (change in blood flow) related to neural activity in the brain or spinal cord of humans or other animals. It is one of the most recently developed forms of neuroimaging. Since the early 1990s, fMRI has come to dominate the brain mapping field due to its relatively low invasiveness, absence of radiation exposure, and relatively wide availability.''
What to expect
An experience identical to the fMRI.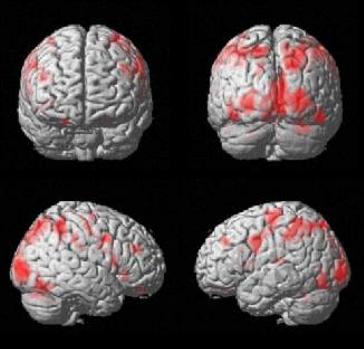 Science
PET
Positron emission tomography
What?
''... is nuclear medicine imaging technique that produces a three-dimensional image or picture of functional processes in the body. The system detects pairs of gamma rays emitted indirectly by a positron-emitting radionuclide (tracer), which is introduced into the body on a biologically active molecule. Three-dimensional images of tracer concentration within the body are then constructed by computer analysis.''
What to expect
Having a low level radiation dose injected in your body, lying down in a scanner and
not moving
for about 1 hour and 30 minutes.
Risks
Exposure to radiation from the short-lived tracer substance injected into your body. This level of radiation dose is about three time that you receive annually from natural background radiation (0.9-2.2 mSv) in various regions of North America. The degree of risk associated with exposure to an additional 7.5 mSv of radiation is thought to be very low. This amount of additional radiation may increase the risk of fatal cancer by about 3 in 10,000 during a lifetime, while the current overall risk of fatal cancer is about 2,300 in 10,000.
Similar risks, equivalent to those from the dose you are receiving, are associated with:
(a) smoking 3 packs of cigarettes during a lifetime (cancer, heart disease)
(b) driving 3,000 miles by car (accident)
(c) flying 30,000 to 90,000 miles by air (accident)
(d) living 150 days in New York or Boston (air pollution)
Beats being an astronaut by far.
Thanks to Wikipedia!